Source:
Omaha World Herald
By Henry J. Cordes
HALLAM, Neb. — In an effort to reduce greenhouse gas emissions, the Nebraska Public Power District will become the first utility in the nation to produce electricity from clean-burning hydrogen.
The green energy initiative announced Friday represents a unique collaboration between the state's largest utility and a California-based manufacturer that will be bringing 100 new jobs to the state.
Monolith Materials makes carbon black, a product used in numerous consumer products, including tires, ink and cell phones. Hydrogen is a by-product of the carbon black manufacturing process.
Monolith will build its plant adjacent to NPPD's coal-fired Sheldon Station generating plant near Hallam, Nebraska, just south of Lincoln.
FULL story at link. Video:
http://studio.omaha.com/?ndn.trackingGroup=91341&ndn.siteSection=omahawh&ndn.videoId=28911441&freewheel=91341&sitesection=omahawh&vid=28911441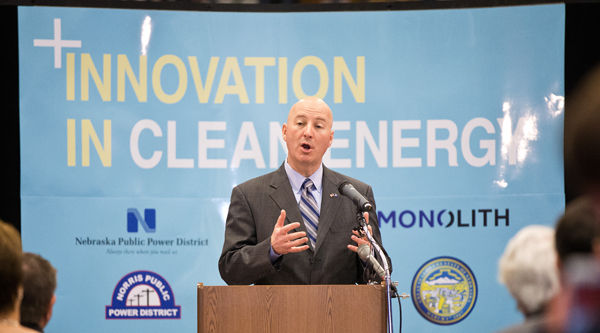 REBECCA S. GRATZ/THE WORLD-HERALD
Gov. Pete Ricketts at the partnership announcement between NPPD and Monolith Materials at NPPD's Sheldon Power Station in Hallam, Nebraska, on April 17, 2015.
Read more:
http://www.omaha.com/news/nebraska/nppd-to-become-first-u-s-utility-to-produce-electricity/article_b4d4039e-e51d-11e4-bec9-0b6fd4e04c0e.html